Theodorias (modern Qasr Libya): Byzantine city in the Cyrenaica, (re)founded in 539 CE by the emperor Justinian. Two churches have been identified; the floor mosaics in the eastern basilica are among the greatest artistic treasures of Libya.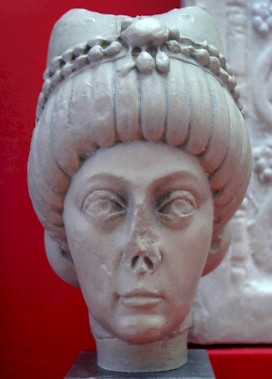 The ancient city of Olbia, which had suffered heavily when the Vandals and the Laguatan nomads had occupied parts of northern Africa in the second half of the fifth and first quarter of the sixth century, was refounded by the Byzantine emperor Justinian (r.527-565), and renamed "Theodorias" after his wife Theodora, who had spent her youth in nearby Apollonia. The rebuilding was part of the Ananeosis, the reorganizing of the Cyrenaica. Two mosaics in the East Church provide a date for the refoundation of the city: 539 CE.
The new city has been partly excavated, and two basilicas have been identified, the western one and the eastern one. The latter has become famous for the splendid mosaics that were excavated over there. Compared to the official imperial art of that age (like the mosaics in Constantinople), the mosaics from Qasr Libya are perhaps a bit coarse, but they are lively and colorful, and they express a kind of élan vital that continues to amaze and fascinate.
The excavators were sure that there were more churches in the neighborhood, but so far, they have not been excavated.