Waldgirmes: village in Germany, site of an ancient Roman city.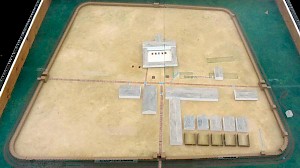 West of Waldgirmes, a small town in Germany, archaeologists are excavating the remains of an ancient Roman settlement. There are many Roman settlements in Germany, but this is a civil one, and what is more interesting: it is 100 km east of the Rhine. Moreover, it dates back to the first decade of our era, to the period in which Roman commanders like Drusus, Tiberius, and Varus attempted to subdue the Germanic tribes. Hardly any military objects have been excavated, and barracks have not been identified. Perhaps it was a town for veterans (colonia).
The foundations of the central building were made out of natural stone. In other words, the Romans intended to remain permanently in their new city. This is also shown by the gilded equestrian statue of the emperor Augustus on the central court of this monumental building - hardly an object for a settlement that is not intended to be permanent. Although the building looks like the headquarters or principia of a fort, it can probably better be called a forum, market place.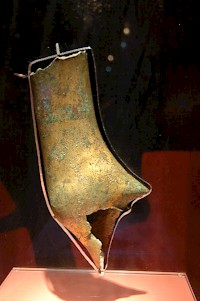 It measured 54x45 meter, or 36x30 Roman passus; the foundations were about two feet wide. Today, a line of stones gives the visitor an impression of the entire building. The greater part is authentic.

The settlement was situated in the fertile valley of the river Lahn, close to a legionary base at Dorlar and a native hillfort (oppidum) on the Dünsberg.

On the photos of the excavation you can see the western wall in 2005. You can see the traces of a double ditch and a palisade. The wall surrounded a surface of about eight hectares. It appears that the settlement was evacuated and it is easy to identify the occasion: the disaster in the Teutoburg Forest in 9 CE, in which three legions (XVII, XVIII, and XIX) were destroyed. The evacuation must have taken place in a hurry, because the gilded equestrian statue was left behind.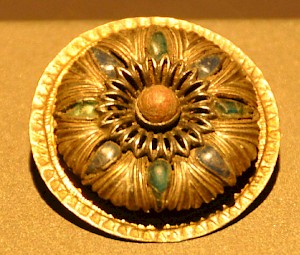 The site of Waldgirmes was identified in 1990, the forum with the stone foundations was discovered in 1997, and excavations were still going on in the late summer of 2005. Remains of the gilded statue were found in the 1990s, but the discovery of the splendid head was announced in 2009.
The finds from the Waldgirmes excavation are on display in the local Heimatmuseum. Some finds are in the Archaeological Museum of Frankfurt am Main.