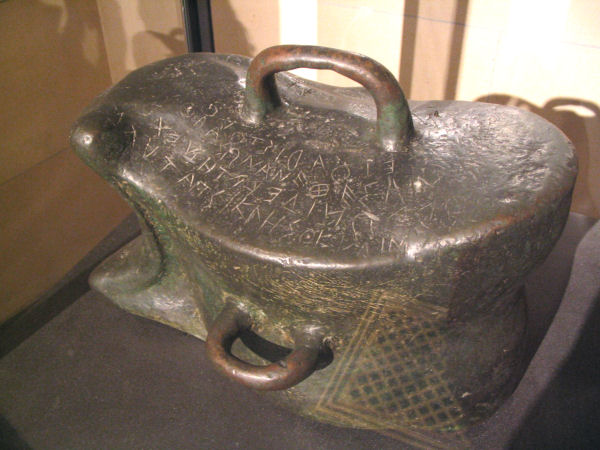 Description

Susa, Weight from Didyma

Details

τάδε τἀγάλματα ․․․․․ 
[…]     
[ἀ]πὸ λείο Ἀριστόλοχ[ος]
[κ]αὶ Θράσων ἀνέθεσαν τ[ὠ]-
πόλλωνι δεκάτην· ἐχάλκε[υε]
δ' αὐτὰ Π<α>σικλῆς ὁ Κυδιμένε[ος]

These bronze offerings
as a tithe on bootynote[or: harvest? or: gain?]
Aristolochos and Thrason dedicated to Apollo.
Pasikles, son of Kudimeneus, cast them.

Date

ca. 500 BCE

Inscriptionnr

IK Estremo oriente 172 (Greek)

Creator

Museum

Licence

Linked

Categories

Tags
We share high-resolution versions of our original photographs. Contact us for further information and be sure to make a note of the URL of the photos you are interested in.