Meteriola inscription: fifth-century tombstone of a Christian lady from Remagen.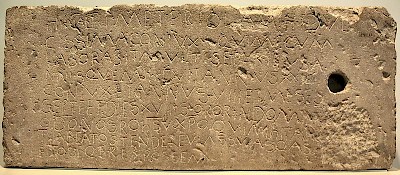 Among the many delights of the Rheinisches Landesmuseum in Bonn (Germany) is a fifth-century tombstone from Rigomagus (modern Remagen), which once indicated the burial place of a Christian lady named Meteriola. Her husband wrote a moving epitaph:
HIC IACET METERIOLA MIHI DVL-
CISSIMA CONIVX QVI MECVM
LABORABIT MVLTIS E PLRIBVS A-
NNIS QVE MIHI FVIT ANNVS XXIII
CONIVX ET ANNVS VIII ET MESES
SEPTE ET DIES XVIII SOROR IN DOMIN-
O DO NOSRO hSV XPO QVI MIHI FAN-
TI ABEAT OSTENDERE VIAS SUAS QAS
ESTO SEQERE POSSEM
After correction of some spelling mistakes (in green) and completing the abbreviations, we can recognize that the author has attempted to write some hexameters, although they are not really perfect.
Hic iacet Meteriola mihi dulcissima coniunx,
quae mecum laboravit multis et pluribus annis,
quae mihi fuit annos tres et viginti coniunx et annos
octo et menses septem et dies duodeviginti
soror in domino Deo nostro Hiesu Christo
qui mihi tanti abeat ostendere vias
suas, quas -esto!- sequi possem.
Which can be translated as follows:
Here rests my my sweetest wife Meteriola,
who worked with me for many and even more years,
who was for twenty-three years my wife
and for eight years, seven months, and eighteen days
my sister in the Lord, our God Jesus Christ,
Who considers me worthy to show me His ways,
which - so be it! - I will try to follow.
The text illustrates several aspects of late Antiquity. The writing errors show the development of Latin in an area that was increasingly overtaken by the Germanic Franks. For example, we see the beginning of the change from Latin septem ('seven') to French sept: the /m/ at the end of septem was clearly no longer pronounced. At the same time, the attempt to write hexameters shows that the people of the Rhineland still considered the culture of ancient Rome as something to emulate.
Another interesting aspect is that Meteriola and her husband had a mixed marriage: only after fifteen years, one of the two converted to Christianity. Their partly pagan, partly monotheistic home must have been one among many in the fifth-century Rhineland. Perhaps the unusual expression laboravit, here translated as "worked", indicates marital problems, because it can also mean something like "struggled". But if there had been problems, they were finally settled when one of the two partners was baptized. This makes the brief inscription by Meteriola's husband one of the more personal expressions from the late Roman world.
The inscription is known as 13.7813 in the Corpus Inscription Latinarum.
Thanks...
...to Ed Cryer and Simone Mooij.