This page is a stub. It will be expanded to a full-fledged article.
Gordian I and II
Gordian I and Gordian II: usurpers, who unsuccessfully tried to overthrow the emperor Maximinus Thrax (January 238).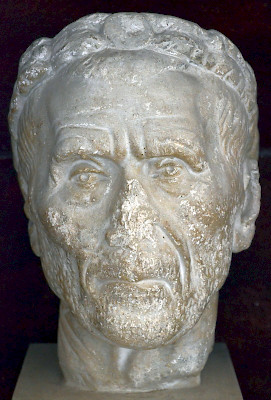 Main deeds: Both men revolted against Maximinus Thrax but were defeated by Capellianus. Their revolt was successfully continued by Pupienus and Balbinus, who adopted Gordianus III.
Gordian I
Names
±158: Marcus Antonius Gordianus Sempronianus
1 (?) January 238: Imperator Caesar Marcus Antonius Gordianus Sempronianus Romanus Africanus Augustus
20 (?) January 238: suicide
Relatives
father: Maecius Marullus (?)
mother: Ulpia Gordiana (?)
married to: Fabia Orestilla (?)
children: Gordianus I, Maecia Faustina (married to Junius Balbus, mother of Gordianus III)
Career
±158 Born
216 Propraetor of Britannia Inferior
c.220 Proconsul of Achaea
c.221 Consul
after 222 Propraetor of Syria
c.230 Starts construction of the theater of Thysdrus
237 Proconsul of Africa
January 238: proclaimed emperor; sends Valerian to Rome as envoy
His son is defeated by III Augusta; commits suicide
Links
Gordian II
Names:
1 (?) January 238: Imperator Caesar Marcus Antonius Gordianus Sempronianus Romanus Africanus Augustus
20 (?) January 238: killed in action
Relatives:
father: Gordianus I
mother: Fabia Orestilla (?)
Career:
Links: