This page is a stub. It will be expanded to a full-fledged article.
Thysdrus
Q17097490
Thysdrus (Greek: Θύσδρος): Numidian-Punic-Roman city in Africa, modern El Jem.
History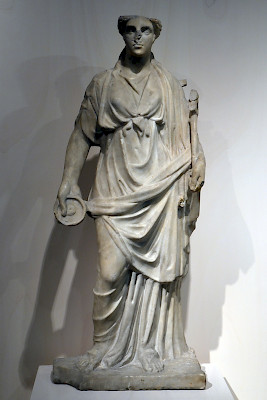 Third century BCE: Punic town with Numidian roots (name written as šṭpšr), thirty kilometers from the shore
Agricultural center; settlement of Roman veterans
Producer of olive oil
Large city; aqueduct needed (fifteen kilometers); great wealth, cf. Maison d'Afrique
Flavian age: construction of the small theater; hippodrome
235 CE: A new emperor, Maximinus Thrax, raises taxes on olive oil; revolt;
Start of the contruction of the amphitheater for which the city is now famous (stone quarries near the shore)
The revolt is suppressed by III Augusta (commanded by Capellianus); Gordian commits suicide, his son is killed in action
244: Gordian III (son of Gordian II) completes the amphitheater and raises the town to the rank of colonia,
Thysdrus in decline; Sufetula becomes the most important center of the region
533: Byzantine reconquest of Africa
698: Arab capture of Carthage. A local queen named Kahena uses the theater as fortress (699 CE)
Amphitheater
The amphitheater of Thysdrus is one of the best-preserved amphitheaters in the world. It was built between 238 and 244 and remained in use as fortress. It measures 148x 122 meters; the arena is 64½ x 39 meters.
Maison d'Afrique
Next to the museum of El-Djem is a small excavation of several Roman houses, dating to the second half of the second century. One of these, named the Maison d'Afrique after a mosaic, has been reconstructed.