This page is a stub. It will be expanded to a full-fledged article.
Shahrbaraz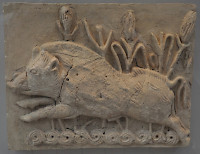 Main deeds:
Name: Farrukhan
Reign: In c.630 (contested)
A Parthian general in the Sasanian Empire, Shahrbaraz (a nickname meaning "boar of the kingdom") conducted several highly successful campaigns for his king, Khusrau II, in the war against the Byzantines. In 626, he besieged Constantinople, but was unable to capture the city.
When Kavad II died after a short reign in 628 and left a young son Ardašir IV as successor, Shahrbaraz seized the throne.
Peace treaty with the Byzantine Empire.
Forty days after his accession, Shahrbaraz was killed by a follower of Khusrau II and succeeded by Khusrau's daughter Buran.
General Literature on Sasanian Persia
Touraj Daryaee, Sasanian Persia. The Rise and Fall of an Empire (2009)
Josef Wiesehöfer, Das antike Persien. Von 550 v. Chr. bis 650 n. Chr. (1994)