This page is a stub. It will be expanded to a full-fledged article.
Khusrau II the Victorious
Khusrau II the Victorious: king of Persia, ruling from 590 to 628. During his reign, the Sasanian Empire reached its greatest extent.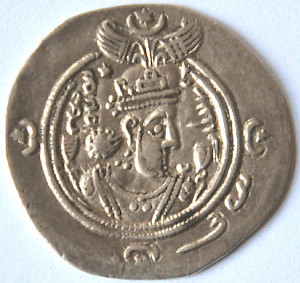 Main deeds:
Name: Khusrau II the Victorious
588 Outbreak of civil war in the Sasanian Empire. Bahram VI, a hero from the Turkish war, successfully marches against Hormizd
590 Hormizd is overthrown, taken captive, blinded, replaced by his son Khusrau, and killed. Khusrau inherits teh war against Bahram and flees to Constantinople
Beginning of reign: 590
Successor of: his father Hormizd IV
590: civil war between Bahram VI and Khusrau II 'the victorious'
591: supported by the Byzantine emperor Maurice, Khusrau defeats Bahram and another rebel, Bistam; peace treaty between Constantinople and Persia
602: Maurice assassinated; his successor is Phocas
604: Khusrau launches a war against the Byzantine Empire, officially to avenge his benefactor
608: Heraclius overthrows Phocas, continues the war against the Sasanians​
Their main Sasanian commander, Shahrbaraz, takes Antioch in 612 and Damascus in 613, proceeding to Jerusalem in the next year. The True Cross is seized, together with the lance and sponge used during the crucifixion of Jesus. Alexandria is next.
Counteroffensive by Heraclius
626: The Avars, allied to the Sasanians, besiege Constantinople. When Khusrau learns of the Avar retreat, he sends a messenger to Shahrbaraz, ordering him to return with his army as soon as possible. However, the Byzantines intercept the message and forward another letter, which has been dictated by Heraclius. It says that the general has to stay where he was. The ruse is successful and for months, the Byzantine field army does not encounter serious resistance.
In December 627, Heraclius defeats a large Persian army near the ruins of ancient Nineveh. The battle lasts eleven hours but is decisive.
End of reign: 628
Early in 628, crown prince Sheroe puts his father put in jail, where he will die not much later. Sheroe succeedd to the throne and accepts the name of Kavad II. He immediately sends envoys to Heraclius, whom he calls "my brother". The new Persian king expresses his wish to live in peace and harmony with the Byzantines and promises to release all POWs. The emperor appreciates the overture and demands that the True Cross will be returned. However, the negotiations are broken off because the young Persian king dies.
His successor, general Shahrbaraz, who briefly rules in 629, finally accepts a treaty.
Rock Reliefs
(Numbers according to the Vanden Berghe list.)
General Literature on Sasanian Persia
Touraj Daryaee, Sasanian Persia. The Rise and Fall of an Empire (2009)
Josef Wiesehöfer, Das antike Persien. Von 550 v. Chr. bis 650 n. Chr. (1994)