Aalen: town in Germany, known for a Roman limes fort.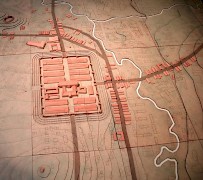 Aalen was the largest cavalry fort (castellum) along the limes of the Roman province of Raetia (map). The ancient name of the settlement has not been recorded, but we know that it was occupied by the Ala II Flavia Miliaria Pia Fidelis. The first three words mean that this was the Second squadron recruited by the Flavian emperor Vespasian; miliaria means that it was a thousand men strong (five hundred was common); and the last two words are the common surname "faithful and loyal". The modern name Aalen appears to be derived from Ala.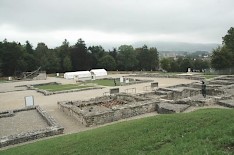 The headquarters (praetorium) of Aalen have been excavated. Like all other limes forts, this building consisted of a square that was surrounded by several buildings. On one side, there was a basilica (hall); on the opposite side, there were several official rooms, the central one being the sanctuary of the unit's standard.
As always, the soldiers enjoyed some comfort, and the headquarters were even luxurious. For example, they had a hypocaustum or floor heating. Hot air was blown through the space between the little columns that supported the floor. Among the other excavated parts belongs the sanctuary of the unit's standard. Beneath the houses in the neighborhood, archaeologists may one day find ancient barracks or stables.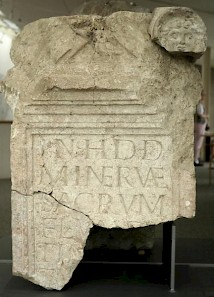 To the northeast of the museum is the church of Sankt Johann, close to the gate of the fort. The cemetery is exactly within the walls of the fort. As a place of worship, the site has been used for more than eighteen centuries. An inscription survives with a dedication to the war goddess Minerva, whose attribute is also shown: the little owl.
Beyond the sanctuary was the civil settlement, which occupied the slopes east and southeast of the fort. Some 3,000 people appear to have lived in this town. Had a village of these dimensions been excavated in Italy, archaeologists would certainly have called it a city. Like the fort, the town was evacuated in c.260, when the Alamans occupied the triangle between the Rhine and Danube.
To the west of Aalen was the limes fort of Böbingen an der Rens, and to the east was Rainau-Buch, where the remains of several ancient Roman fortifications can now be seen in the open air. Visits to Aalen's Limes Museum and Rainau can easily be combined. In fact, they supplement each other.