This page is a stub. It will be expanded to a full-fledged article.
Apamea
Q617550
Apamea: Hellenistic city in Syria.
Hellenistic City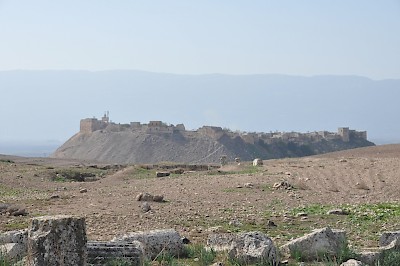 Apamea, situated in the plain of the Orontes, consisted of a straight and wide main street (now called the "Colonnaded Street"), walls that followed a course determined by the shape of the site, and a separate citadel on a hill. It was therefore a typical Macedonian colony, as could be expected from a town that belonged to the Syrian tetrapolis (Antioch, Seleucia, Laodicea, Apamea), which was created by Seleucus I Nicator in abour 300 BCE. The city, which had a surface of about 250 hectares, was named after his Iranian wife Apame.
Earlier settlement, Pharnace, renamed Pella by Alexander the Great
Citadel may be even older: founded by king Irhuleni of Hamath, mid-ninth century
Military school; Seleucid treasury
188 BCE: Peace of Apamea
Eclipsed by Antioch
Taken by the Romans in 64; citadel razed
Roman City
Late Antiquity
Apamea, Church, Mosaic of Adam and the Phoenix

c.410 Capital of the province of Syria Secunda; the Hunters Mosaic was discovered in what must have been the audience hall of the Roman governor
413 Byzantine bishopric; center of the Jacobite Monophysites; relic of the True Cross (attracts pilgrims)
526, 528 earthquakes
540 Sacked by the Sasanian Persians
573 Sacked by the Sasanian Persians
574 (or 566) Justin II brings the relic of the True Cross to Constantinople
612-628 Occupied by the Sasanians
Arab conquest; remains importants as center of Jacobite Monophysitism
Colonnaded Street