This page is a stub. It will be expanded to a full-fledged article.
Augusta Traiana (Stara Zagora)
Q26206075
Augusta Traiana: Roman city in Thrace, modern Stara Zagora.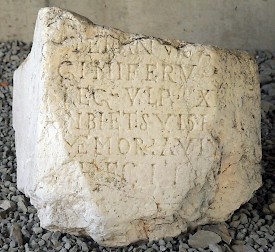 Augusta Traiana
Quarry; copper mine; Neolithic settlement
On the road south of the Haemus (Balkan) Mountains, between Philippopolis and (end third century) Diocletianopolis in the west and the ports of the Black Sea in the east; junction with the road to Hadrianopolis in the southeast and Nicopolis and Novae on the northern side of the mountains
Trajan was interested in Nicopolis and Traiana, founded 106 CE; 38 hectares
Aqueduct 3 km north
Greek inscription documents domestic unrest in the mid-second-century, and festivities when they were over
Mint from Marcus Aurelius to Gallienus (bronze coins)
c.250: Attack by barbarian troops, which proceed to the west, to Philippopolis
Destroyed by the Goths (376-378)
Christian precence
Late Antiquity: called Beroea
Walls rebuilt by Justinian.note[Cf. Procopius, Buildings 4.11.19.]
Today
There is a good museum and an excavation. You can see the western gate, the decumanus maximus, the base of an equestrian statue on a market place (which may have doubled as amphitheater), and baths. Ask directions at the museum to the underground mosaics, which are at walking distance from the museum.