This page is a stub. It will be expanded to a full-fledged article.
Marcus Aurelius
Marcus Aurelius: emperor of the Roman world (r. 161-180).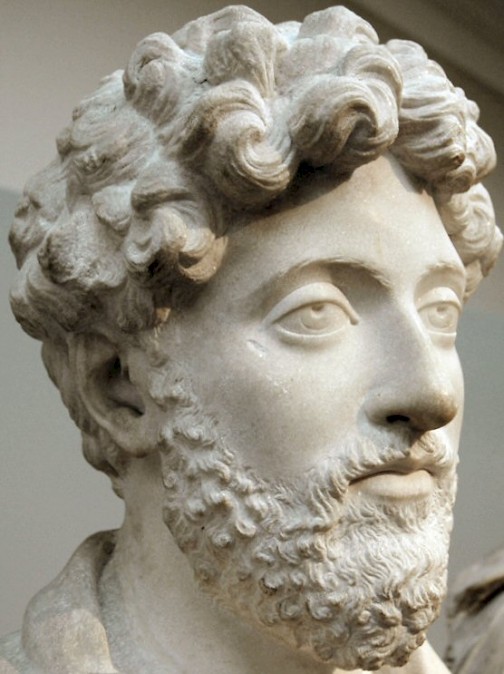 Names:
26 April 121: Marcus Annius Catilius Severus
17 March 136: Marcus Annius Verus
25 February 138: Marcus Aelius Aurelius Verus
139: Aurelius Caesar
7 March 161: Imperator Caesar Marcus Aurelius Antoninus Augustus
17 March 180: natural death
Successor of: Antoninus Pius
Relatives
Early career
128 Coopted in the college of the Salii
136 Engaged to Ceionia Fabia, daughter of Lucius Aelius; prefect of the Latin festival
138 Adopted by Antoninus Pius; new engagement to Annia Galeria Faustina, daughter of Pius
140 Consul
145 Consul II; mariage to Faustina
147 Tribunicia potestas
Main deeds
Marcus Aurelius

161 Consul III (with Lucius Verus II); succeeds Antoninus Pius; Lucius Verus co-ruler
161, Spring: the Parthian king Vologases IV attacks Armenia; outbreak of a major war; destruction of VIII Hispana (or XXII Deiotariana?); debasement of the denarius
162 Lucius Verus proceeds to the east
164 After Lucius Verus has recovered Armenia, both emperors accept the title Armeniacus
165 Outbreak of the Plague
166 Quinquennalia; Parthian triumph; both emperors accept the titles Medicus and Parthicus
167 Plague in Rome
169 Death of Lucius Verus; leaves Rome for war against the Germanic tribes

Marcus Aurelius

170 Directs the northern war from Carnuntum
171 Directs the northern war from Carnuntum; celebrates Decennalia
172 Directs the northern war from Carnuntum; accepts the title Germanicus
173 Revolt in Egypt, suppressed by Avidius Cassius; Didius Julianus defeats the Chauci
174 Begins Meditations; rain miracle (text); peace with the Marcomanni
175 Revolt and suicide of Avidius Cassius; concludes a peace treaty; accepts the title Sarmaticus; Marcus Aurelius and Commodus make a tour to the east; stay in Alexandria
176 Tour through Syria, Asia (death of Faustina II), Greece (initiation in the Mysteries of Eleusis), return to Rome; Germanic triumph
177 Commodus consul (with Marcus Peducaeus Plautius Quintillus) and made co-ruler; Romans defeat Moors; persecution of Christians
178 Unrest among the tribes along the Danube; Marcus Aurelius again to the Danube
179 Commodus consul II (with Publius Martius Verus II); continued war; debasement of the denarius
180 When victory is within reach, Marcus dies in Vindobona.
New legions
Buildings (Rome)
Buildings (elsewhere)
Succeeded by: Commodus
Contemporary events
165 Execution of Justin Martyr
165 Peregrinus Proteus dies at the Olympic Games
166 A Roman embassy reaches China
177 Martyrs in Lyon; Irenaeus made bishop
Links