This page is a stub. It will be expanded to a full-fledged article.
Olympic Games
Q188468
Olympic Games (Greek Ὀλυμπιάς): festival in Olympia with athletic contests, celebrated every four years in honor of the supreme god Zeus.
Olympic Games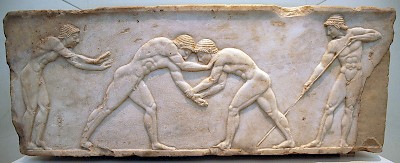 The Olympic Games were the most important of all panhellenic festivals.note[Cf. Pindar, Olympian Ode 1.3-7.] During this festival, which was celebrated every fourth summer to honor the supreme god Zeus, there was a formal truce between city states that were at war, allowing the contestants to travel to the sanctuary. Because this was a panhellenic festival, where people wanted to be seen and cities wanted to present themselves, it was a severe setback for a town when the organizing comitee decided to exclude its citizens.
The contestants had to be Greek. For example, king Alexander of Macedonia had to prove that he had Greek ancestors before he was allowed to compete. Later, Romans were allowed to participate as well. The victors received a wreath made of olive leafs.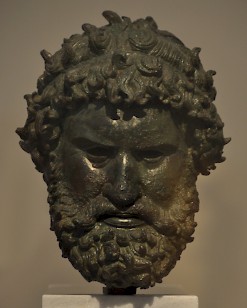 According to later sources, the Olympic Games started in 776 BCE. There is evidence that the games were inspired by (oral traditions about) stories from the Near East, like the funeral of Enkidu in the Epic of Gilgamesh.note[D. Chibo, "The Mesopotamian origins of the Olympic Games", in: Nikephoros 20 (2007).] The Greeks also told stories that Heracles had established the games to honor his father.
Originally, the games consisted of a foot race of one stade (i.e., the length of the stadium, 192 meters). In 724 BCE, the double stade was introduced, followed by the long-distance race (720), wrestling and pentathlon (708), boxing (688), chariot racing (680), pankration and horse racing (648), and hoplite racing (520).
Originally, the contestants were aristocrats; later, we see also other men competing for the wreath.
Many people, also men like Herodotus, who appears to have read his lectures at this panhellenic festival
After Philip and Alexander had subdued Greece, Macedonians were allowed to compete.
The stadion was built in its present form in the fourth century. It could accomodate about 45,000 spectators. The palaestra was added in the third century and the gymnsium in the second century.
After they had conquered Greece, Romans were allowed to compete.
In 67, the emperor Nero won the chariot race.
Theodosius I (r.378-395) demanded an end to the Olympic Games, which he considered too pagan; it was his grandson Theodosius II who really put an end to the games. However, there are indications for (clandestine?) games in the sixth century.