Emporiae (Greek: ᾽Εμπόριον, "port of trade"): three Graeco-Roman settlements in northeastern Spain, today called Ampurias in Spanish and Empúries in Catalan.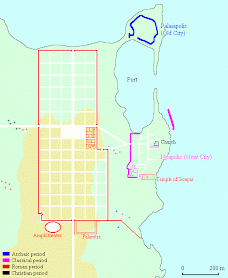 Emporiae consists of several settlements:
The

Palaiopolis

or Old Town was founded by Greek settlers from Marseilles on an island opposite the Costa Brava near the Pyrenees, at the mouth of the river Fluvià. It is now called Sant Martí d'Empúries, and still occupied, which makes excavation difficult.
The Neapolis or "new town" was later founded on the mainland; it covers about 4 ha. The jetty and the upper strata, from the second and first centuries BCE, have been excavated; the lower strata are less well known.
The Roman city, founded after 195 BCE, on the place of a native settlement that was known as Indikê. It measured about 22½ ha, included an amphitheater, and only a small part has been excavated.
The cemeteries outside the walls.