This page is a stub. It will be expanded to a full-fledged article.
Hadrumetum
Q2736539
Hadrumetum (Greek: Ἀδρύμητος): Punic-Roman port in Africa, modern Sousse, second city in Roman Africa.
Hadrumetum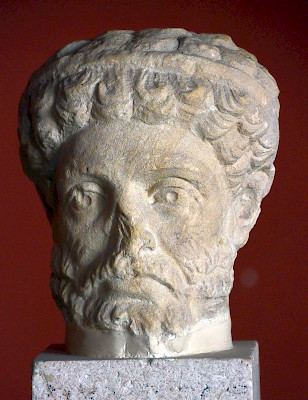 c.800 BCE Founded by Phoenicians (from Tyre?note

[Solinus 27.9.]

); the Phoenician name has not been recorded
Becomes part of the Carthaginian Empire
c.600 BCE: the sanctuary of Baal Hammon, with many stelas and the remains of animals and children (it remains in use until c.50 CE)
309 BCE: Besieged by Agathocles
Towards the end of the Second Punic War (218-201) used as base by Hannibal, who landed here and fled to this city after the battle of Zama
Supports Rome in the Third Punic War
Backs Pompey in the Roman Civil Wars
Growth in the second century CE, starting during the reign of the emperor Trajan
Forum, circus, amphitheater, theater, public baths,
Birthplace of Clodius Albinus
297: Capital of Byzacena
Rise of Christianity; the ribat was built on a former church; catacombs of the Good Shepherd, catacombs of Hermes, catacombs of Severus
c.439-533/534: Vandal rule. Renamed Hunericopolis
533/534: Byzantine rule. Renamed Justinianopolis
Arab conquest. Renamed Susa. Serves as port of Kairouan, the new capital of Ifriqiya.