Kurangun: site near Fahlian in Fars (Iran), known for its Bronze Age relief.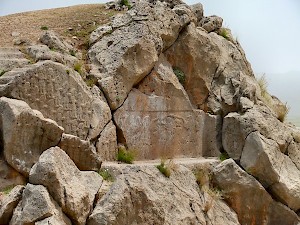 The relief of Kurangun is one of only two Elamite rock reliefs in the Iranian province of Fars. The other one is at Naqš-e Rustam. Both show nearly similar scenes, but while the Naqš-e Rustam relief has almost entirely disappeared (erased by a Sasanian audience relief attributed to king Bahram II), the Kurangun relief has been preserved in an excellent condition.Depicting a scene of religious worship, the theme is typical of Elamite rock relief art.
Located in the vicinity of Fahlian (north-west of Nurabad), the relief was carved at the top of a rocky cliff named Kuh-e Paraweh, dominating the Fahlian river (Rud-e Fahlian) flowing in the valley of Dasht-e Rustam-e do. Its isolation from frequented roads, inaccessible for vandals, may explain its excellent state of conservation.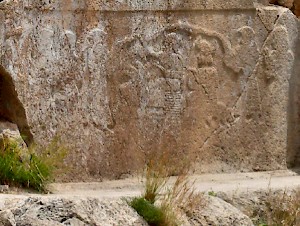 The central panel dates to the seventeenth century BCE and is carved in a rectangular frame. It shows a divine couple, sometimes identified as the god Inšušinak and goddess Napiriša.
Both divinities have a human form. The male figure is seated on a throne made of a bended snake, the animal that symbolizes the earth in the Elamite pantheon. The god wears a horned crown and holds a bowl or a cup from which some smoke or vapor escapes, spreading above at the top of the scene. Behind him sits a female deity.

The divine couple is honored and surrounded by nobles or dignitaries. The panel is separated from the floor by a set of three parallel lines, which separate the upper panel from many silhouettes of fish, which, although eroded, can still be distinguished and probably symbolize the Fahlian river down the cliff.
The panels to the left and right were added in the eighth or seventh centuries and show processions of worshiping characters, all similar to each other, all facing the central scene. These characters are dressed in a fashion different from the gods, wearing typically Elamite clothes (hats with a tail falling down on the back, long coats, and wide trousers), all being represented in a humble praying attitude. This kind of composition is typically Elamite and evokes the reliefs carved in the same period at Kul-e Farah, near Izeh in the Khuzestan province. Another similarity is that all the available rocky surfaces were exploited.
Literature
Thanks
Many thanks to Professor Ernie Haerinck (Department of the Near Eastern Archaeology at Ghent University), for his gentle help, and to Dr Habibi (Fars miras office in Fahlian district, Iran).