This page is a stub. It will be expanded to a full-fledged article.
Bahram II
Bahram II: king of Persia, ruling from 276 to 293, member of the Sasanian dynasty.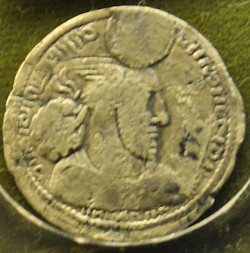 Main deeds:
Name: Bahram II
Beginning of reign: 276
Successor of: Bahram I
Married to Ardašir-Anahid
The reign of Bahram I had been the beginning of an era of Sasanian weakness and during the reign of Bahram II, things went even worse. He had some difficulty in suppressing a revolt by his brother Hormizd, who ruled in the far east.
In 283, Bahram II lost a war against the Roman emperor Carus, was forst to accept the loss of Armenia and northern Mesopotamia; and in the end, he lost power to the Zoroastrian high priest Kartir.
End of reign: 293
Succeeded by: his son Bahram III, who was inmediately replaced by Narseh.
Rock Reliefs
Bahrām II introduced new new kind of scenes: images of intimacy (Sarab-e Qandil), frontal representations (Sarab-e Bahram), fights against lions (Sar Mashhad). He also used new sites, which had never been used before. Bahrām left no less than ten rock reliefs.(Numbers according to the Vanden Berghe list.)
Fight against lions at Sar Mashhad
Equestrian victory relief Naqš-e Rustam (defeat of unknown Roman enemy)
Double equestrian victory relief Naqš-e Rustam (defeat of unknown enemy)
General Literature on Sasanian Persia
Touraj Daryaee, Sasanian Persia. The Rise and Fall of an Empire (2009)
Josef Wiesehöfer, Das antike Persien. Von 550 v. Chr. bis 650 n. Chr. (1994)