Naqš-e Rustam, Third (Double) Relief of Bahram II
Q70786999
Third Relief of Bahram II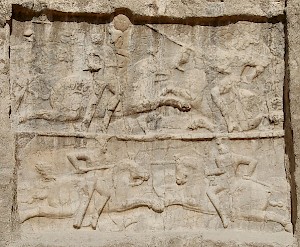 The Iranian king Bahram II (276-293) was not the strongest ruler of the Sasanian dynasty. Having lost a war against the Roman emperor Carus, he accepted the loss of Armenia and Mesopotamia; he had some difficulty in suppressing a revolt by his brother Hormizd; and he lost power to the Zoroastrian high priest Kartir. Still, Bahram II left no less than ten rock reliefs, three of them in Naqš-e Rustam.
The Double Equestrian Victory Monument of Bahram II can be seen immediately below the tomb of Darius I the Great. The Sasanian king is recognizable because there are eagle's wings on his helmet, something we recognize from his coinage. In the upper register, Bahram throws an enemy from his horse. His standard bearer occupies the left part of this scene.
In the lower register, king Bahram fights against another enemy; the two scenes are almost identical. On both reliefs, a dead enemy is trampled upon by the king's horse. The enemy cannot be identified.
Literature
Louis Vanden Berghe, Reliefs rupestres de l' Iran ancien (1983 Brussels), #72.