Mesopotamia: pseudo-ancient name for the country that is now known as Iraq. In Antiquity, it was not common to regard the five parts of this region as a unity.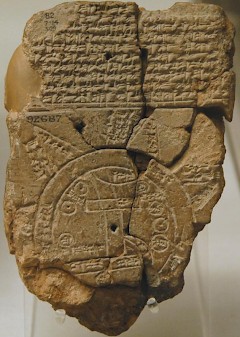 The Greek word Mesopotamia, "country between rivers" (Euphrates and Tigris), is used for the first time by the historian Arrian of Nicomedia, in his account of the campaigns of Alexander the Great. He uses older sources, and Arrian applies the expression to what is now eastern Syria and northern Iraq. In other words, Arrian refers to the part that is now called Jezira ("the island"). The first to use the word to indicate southern Iraq too, was Pliny the Elder. In Antiquity, Arrian's usage was more common. When the Romans conquered land east of the Euphrates, they called this new province Mesopotamia, even though they had not subdued the south.
The larger area can be divided into five parts.
The country is extremely rich in agricultural resources.
So great is the fertility of the grain fields that they normally produce crops of two-hundredfold, and in an exceptional year as much as three-hundredfold
writes the Greek researcher Herodotus of Halicarnassus.note[Herodotus, Histories 1.193.] This is exaggerated, but the real fifteenfold yields were indeed extremely high.
Other products were scarse. Mesopotamia proper has some forests, but in Babylonia, wood had to be imported. Metallic ores are absent. The only resource is oil - but in Antiquity, no one knew an application for this dirty product.