Naqš-e Rustam, Second (Equestrian) Relief of Bahram II
Q70786992
Second Relief of Bahram II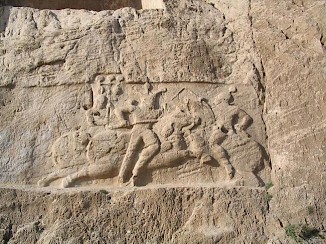 The Iranian king Bahram II (276-293) was not the strongest ruler of the Sasanian dynasty. Having lost a war against the Roman emperor Carus, he accepted the loss of Armenia and Mesopotamia; he had some difficulty in suppressing a revolt by his brother Hormizd; and he lost power to the Zoroastrian high priest Kartir. Still, Bahram II left no less than ten rock reliefs, three of them in Naqš-e Rustam.
One of these shows an equestrian battle. It can be found immediately below Achaemenid tomb I (Darius II Nothus?). Bahram's enemy wears a Roman helmet and may represent the emperor Carus, but he can also be a local ruler who had modeled his army on the imperial units. Next to Bahram, his standard bearer is visible.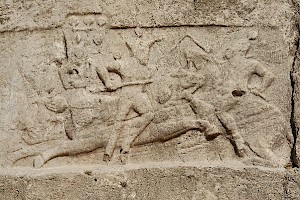 This relief is very lively, completely different from all preceding Sasanian reliefs, except for Firuzabad I. A convincing explanation for this sudden change in artistic style has not yet been found.
Literature
Louis Vanden Berghe, Reliefs rupestres de l' Iran ancien (1983 Brussels), #71.