Machnaqa: village in Lebanon, with remains of an ancient altar, three reliefs, and a couple of tombs. The complex dates to the first or second century CE.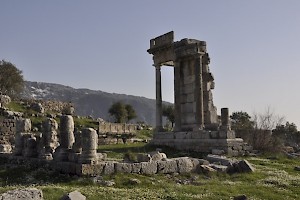 Machnaqa is a small Lebanese village on the western slopes of the Lebanon Mountains, more or less halfway between Byblos and Afqa. There is an ancient altar in the shape of a low tower. More famous examples of this type of structure are the altar-towers the Great Court in front of the temple of Jupiter in Baalbek.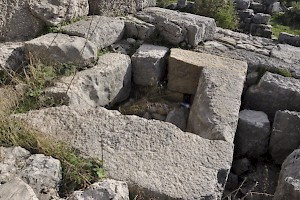 Like the temples at Aïn Akrine, the sanctuary at Machnaqa is surrounded by a large, rectangular enclosure (or temenos, to use the technical term). We do not know which deity was venerated over here, but the large size of the enclosure suggests that there could be many visitors, which in turn suggests a certain popularity.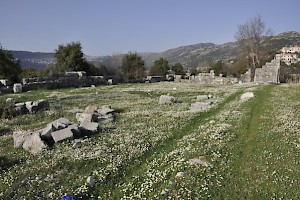 As the second photo shows, the altar originally consisted of a small platform, which was, in a later building phase, included in a larger structure with a slightly different orientation. This second monument was, in turn, integrated in the third building, which was a real tower altar, not unlike the Small Altar at Faqra. This monument is about eight meters high and surrounded with columns with Doric capitals. On top of this platform, the priests could sacrifice small animals.
Some hundred meters north of the sanctuary are several rock tombs with three reliefs. Every one of these shows a person in a niche. The first and third relief show smaller figures in front of this niche, which suggests that the standing man and the sitting lady represent deities (Adonis and a mournful Aphrodite?), while the smaller figures are worshippers.
Getting there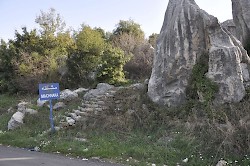 From the coastal highroad between Byblos and Beyrut, take the road that leads to Afqa, following the valley of the Nahr el-Ibrahim (the ancient Adonis river). After about twenty kilometers, you will reach Machnaqa. Just before the village, to your right, several steps (photo right) indicate the place where you will find the reliefs and the tombs. The altar is a little bit beyond it, and can also be approached directly from the road.