Faqra: site of several Roman monuments on the western slopes of the Lebanon Mountains.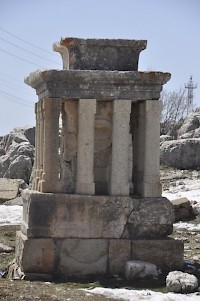 To us, the Small Altar at Faqra, which has been restored in 1945, hardly looks like an altar, and to be fair, we do not really know the function of this small monument. It is a smaller version of the building at Machnaqa, though, which certainly served as a tower altar. Still, there are some problems: for example, where was the sacrifice presented to the deity?
In most tower altars, we can identify the place where the priest ascended the platform. For example, we can recognize the place where the ladder was placed to reach the roof of Faqra's Great Altar, and there are internal stairs in the Tower of Claudius. A block of stone that resembles a small stairs was found near the Small Altar, but we do not know for certain whether it belonged to this monument.
There is also an apse, where a statue of a deity may have stood. If this is true, that would suggest that the monument is not an altar at all, unless the required sacrifices were quite small and could be deposited between the columns, in front of the apse.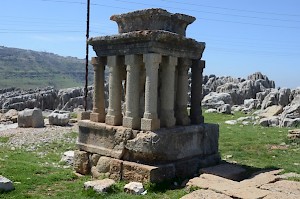 If the monument was not an altar, it may have been a votive gift. There is an illegible inscription, which may be evidence that it was indeed a dedication. But why was this votive gift placed between the altars on the hill, and not in the valley, next to the Temple of Adonis or the Temple of Atargatis? In French, the monument is called the édicule à colonettes, and perhaps we should refrain from attempting to be more precise.