Faqra, Temple of Atargatis
Faqra: site of several Roman monuments on the western slopes of the Lebanon Mountains.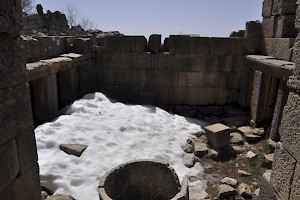 The temple of Atargatis - an inscription proves to whom the sanctuary was dedicated - is built next to the Temple of Adonis. It has an unusual, asymmetrical shape, with a central gate and one window opening to the real shrine, which is on three sides surrounded by square niches. In the entrance is a round tank, which is almost certainly an addition from Late Antiquity, when Christians, who had built a church next to the temple, reused the temple as a baptistery.
In this temple, an inscription was discovered for the safety of the Herodian prince Julius Marcus Agrippa II and his wife Berenice, set up by one Strabo and the temple's high priest Gaius Mansuetus.