Faqra: site of several Roman monuments on the western slopes of the Lebanon Mountains.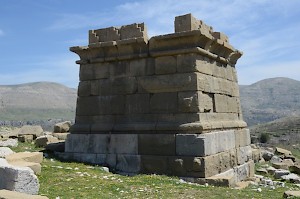 The Great Altar is not the greatest altar at Faqra: the Tower of Claudius is larger. Still, with a height of six meter, it is an impressive monument. The parapet is interrupted on two places, which make it possible to place a ladder against the building. This means that only small animals can have been sacrificed on this altar.
One wall is decorated with a relief of a bull's head. The typical decoration of the parapet (photo below, to the right) is also known from Petra. Over there, it is believed to be a representation of mud brick structures, and it is called "Assyrian style" because it is supposed to be Mesopotamian. It is believed to be Early Hellenistic.