Mainz, Arch of Dativius Victor
Q322649
Mogontiacum: Roman city, capital of Germania Superior, important military base, modern Mainz.
Arch of Dativius Victor
From mid-third century Mainz survives a small honorific arch, dedicated by a man named Dativius Victor to the imperial family. The real monument is in the Landesmuseum, but there's a copy along the road to the nearby Römisch-Germanisches Zentralmuseum. The inscription, included in the Corpus Inscription Latinarum as 13.6705, reads:
IN Honorem Domus Divinae Iovi Optimo Maximo CONSERVATORI ARCVS CVM SIGNIS
QVOS DATIVIVS VICTOR DECurio CIVITatis TAVNENSis VICANIS MO
GONTIACENSIBVS PROMISIS VICTORIVS VRSVS ET VICTORIVS LVPVS
FILIi ET HEREDES CONSUMMAVERVNT (more...)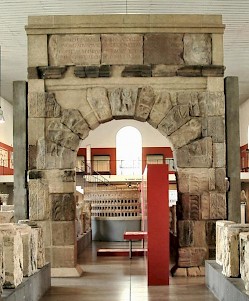 This means that Dativius Victor, decurio in the town of the Taunus people (i.e., Frankfurt) and former provincial chief priest of the imperial cult, dedicated the arch with its decorations to Jupiter, the greatest and best of the gods, to honor the sacred imperial dynasty, as he had once promised to the people of Mainz. The monument was finished by Victorius Ursus ("the bear"), grain merchant, and Victorius Lupus ("the wolf"), Victor's sons and heirs.
The emperor who was thus honored remains unidentified, but Valerian (253-260) is a good guess, because his son was Gallienus was his co-ruler and is known to have visited Mainz.
On the voussoirs (the wedge-shaped stones around the arch), you can recognize the signs of the Zodiac, and in the center, on the keystone, you see the supreme god Jupiter and his wife Juno. To the left and right are sacrificial scenes. The stones survived because they were included in the Roman city wall that was built in the mid-fourth century.