Mogontiacum: Roman city, capital of Germania Superior, important military base, modern Mainz.
Theater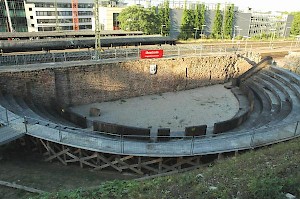 The firsty picture show the theater of Mainz, with the southern station in the background, seen from the Lutheran Church. It is less than five minutes walking from the Museum für antike Schifffahrt, and equally distant to the Drusustein. It looks not very big, but that's because the 42 m wide stage is below the railroad. In fact, it's the largest theater north of the Alps.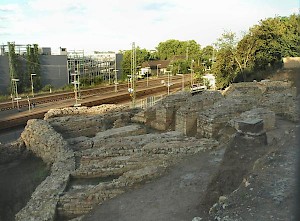 The theater had a width of 116 meters and about 10,000 people could watch the spectacles. The theater is one of Mainz' oldest buildings, although, unfortunately, nothing is known about its first building phase. What is certain, is that it was renovated during the reign of Domitian, who visited the city, and this phase is what we see today. Probably, the theater was not only used for plays, but also for political meetings.