Mogontiacum: Roman city, capital of Germania Superior, important military base, modern Mainz.
Bridge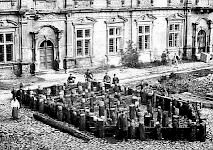 Dendrochronologically, we can be certain that the wood used to build the bridge of Mainz was cut in 27 CE. The bridge can, therefore, not be very much younger. It was almost certainly built on the site of an earlier, pontoon bridge, because the bridgehead on the opposite bank of the Rhine, called Castellum Mattiacorum, was already there for almost a quarter of a century. It may have been created immediately after Caesar's conquest of Gaul.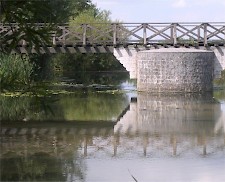 The twenty-one piers that supported the bridge at Mainz spanned about four hundred meters and were placed at a distance of nineteen meters. They measured 18 x 7 meters. (This is comparable to the Roman bridge at Cuijk.) The road across the river must have been at least twelve meters wide, which means that there were two lanes in both directions. The second photo shows a modern reconstruction of a similar, but smaller, bridge at Palzem in Luxembourg.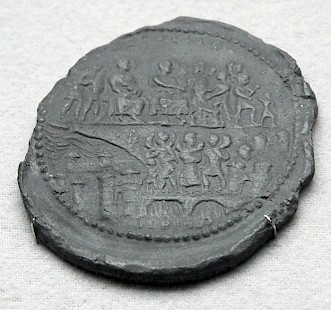 To keep the bridge intact, repairs were needed about four times in a century. They were extreme expensive, but a good connection across the Rhine was vitally important.

Already in Antiquity, the bridge of Mainz was recognized as some kind of monument. The medal on the third picture was made during the reign of the emperor Constantius I Chlorus (r.293-306), who visited Mainz several times to fight against the Alamans. The city, the bridge, and the bridgehead are shown below. The original medal is now in Lyon; the photo shows a copy in the Landesmuseum in Mainz.