Rion and Antirion: two towns at the entrance of the Corinthian Gulf.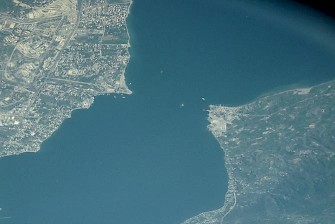 Rion and Antirion, or Río and Andírrio as they are now called, were two places south and north of the entrance of the Corinthan Gulf; Rion was situated on Cape Drepanon, the northernmost point of the Peloponnese. The point was of great strategic importance because it controlled the sea route from the Ionian Sea in the west to Corinth and the Aegaean Sea in the east.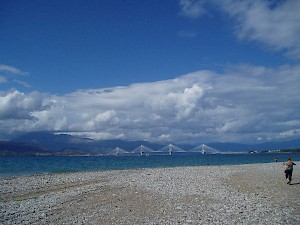 During the classical age, the Athenians guarded it from Naupactus; during the Archidamian War (431-421), admiral Phormio successfully defended the strait against Peloponnesian ships. Later, the Romans used Patras as their base. The castles that can be seen today, were built by the Turks in 1499. The most famous naval engagement on this place was the battle of Lepanto in 1571, in which the Spanish defeated the Turks.
Today, a modern bridge crosses the strait of Rion and Antirion.