Šempeter, Mausoleum of Ennius
Šempeter: modern name of an ancient village along the Roman road from Emona (modern Ljubljana) to Poetovio (modern Ptuj), with several funerary monuments.
Mausoleum of Ennius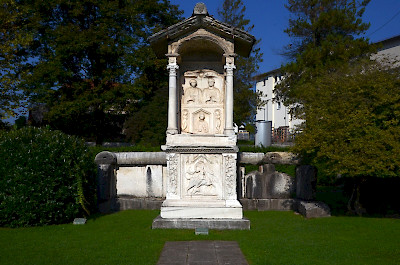 Of the four funerary monuments reconstructed at Šempeter, the Mausoleum of Ennius is perhaps the most elegant one. It can be dated to the second century CE. It commemorates Quintus Ennius Liberalis, his wife Ennia Oppidana, and their daughter Kalendina, who must have died before her parents. She is shown in the lower register of the relief, between two genii with exsitinguisged torches, symbolizing her death. The pedestal is decorated with a relief of the rape of Ganymede, a relief of Europa on the bull, and a mythological scene of a satyr approaching a woman. Birds are also represented. They may represent the souls of the dead.