Šempeter: modern name of an ancient village along the Roman road from Emona (modern Ljubljana) to Poetovio (modern Ptuj), with several funerary monuments.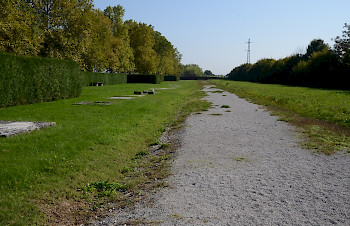 Šempeter was an ancient village, situated near the place where the Roman road from the Adriatic Sea and Emona (modern Ljubljana) to Poetovio (modern Ptuj) and the Danube crossed the river Savinja. This road was very ancient: it was part of the Amber Route that connected the Baltic Sea with the Mediterranean.
The village, which was once part of the kingdom of Noricum, was situated on the northeastern bank of the river, which must have meandered through the countryside. In the third century CE, it destroyed and covered a Roman cemetery, where the wealthy people from nearby Celeia (modern Celje; twelve kms to the east) were buried. Four monuments have been reconstructed in a small park near the church of Saint Peter ("Šempeter").
To the east of the archaeological zone, part of the ancient road leading to Celea can be seen. It was nine meters wide, although the modern pavement appears to be narrower. More than a hundred Roman and six Prehistoric tombs have been identified.