Šempeter, Mausoleum of Vindonius
Šempeter: modern name of an ancient village along the Roman road from Emona (modern Ljubljana) to Poetovio (modern Ptuj), with several funerary monuments.
Mausoleum of Vindonius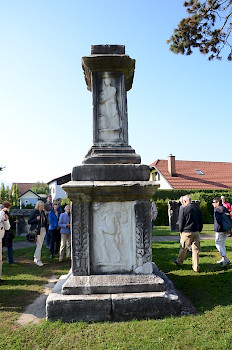 Of the four funerary monuments reconstructed at Šempeter, the Mausoleum of Secundinus appears to be the oldest. It can be dated to the first century CE. It is a tender, simple monument, built on a base in which the remains of the deceased were found, together with some funerary gifts. To the left and right of the pedestal are two reliefs of a deer hunter and a bird hunter, returning home with some animals. In the upper part are reliefs of two female servants, both carrying writing tablets.
The epitaph commemorates one Gaius Vindonius Successus, who had been a magistrate in the nearby town of Celeia, and his wife Julia Ingenua, daughter of a man who is identified as Sextus. Either Vindonius or Julia Ingenua was fifty years old when he or she was buried; the Latin is ambiguous.
The central relief shows Hercules bringing back Alcestis from the Underworld.