Taucheira: Greek port in the Cyrenaica, also known as Arsinoe.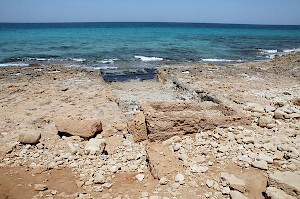 The harbor of Taucheira, where Greek, Egyptian, Phoenician, Carthaginian, Ptolemaic, Roman, and Byzantine ships landed, must have been a lively place, but today, it is hard to imagine. Still, some of the port facilities can be recognized.
Excavations in the 1960s have brought to light Greek ceramics than are much older than expected. Dating from the fourth quarter of the seventh century, they proved that the Taucheira was one of the oldest Greek towns on the southern shores of the Mediterranean Sea.