Tlos (Greek Τλῶς): town in Lycia, modern Döğer in the valley of the Xanthos river.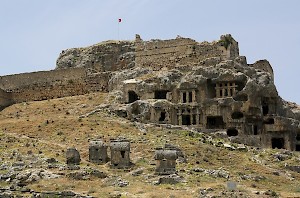 The site of Tlos is situated three kilometers east of the modern village of Döğer and twelve kilometers south of Kemer in the upper Xanthos valley. The main feature is a rocky outcrop, which rises high above the slope of the Massikytos Mountains. This strategic hilltop has been in use as a fort for centuries. The steep cliffs of this acropolis are covered with Lycian rock-cut tombs.
Tlos, which was called Tlawa in the Lycian language, was already occupied in the Bronze Age and may be identical to the Dalawa mentioned in Hittite texts. It was one of the six cities forming the Lycian League.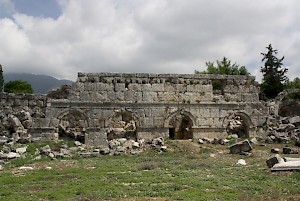 The archaeological finds are from the Classical, Hellenistic, Roman, and early Byzantine age. Among the oldest monuments are Lycian house-type rock-cut tombs, some with figures. Greek influence can be discerned in a tomb on the acropolis dating back to the third quarter of the fourth century BCE. This monument is associated with Bellerophon, who was often seen as the progenitor of the Lycian royalty. A Jewish community is known to have existed at Tlos, and had its own magistrates.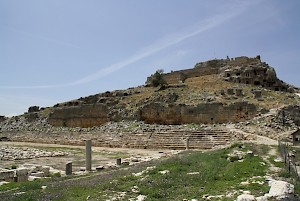 From the Roman age is a wall that was built over a Lycian structure. A stadium could accommodate some 3,500 spectators. Parallel to the stadium, to the south-east, are remnants of a 150 meters long, two-story structure with large arched doors in the west wall. This was probably part of a portico surrounding the agora. To the south was a palaestra (wrestling hall) and further south-east an extensive bath complex. In the east is a large second-century Roman theater with thirty-four rows of seats, supported by a structure of vaults. A portion of the stage building still stands and theater mask reliefs on stone blocks remain visible.
Archaeologists also found statues of Hadrian, Antoninus Pius, and Faustina the Younger (wife of Marcus Aurelius), as well as the goddess Isis. These statues can now be seen in the Fethiye Museum. Christianity eventually triumphed and a bishop from Tlos attended the Council of Chalcedon in 451. A church has been identifies to the east of the palaestra. In the Byzantine and Ottoman age, the acropolis was again in use as fortress.