Wadi El-Amud ("the wadi of the needle"): the name of a wadi in Libya. On this page, you will find photos of an ancient monument that appears to have no real name.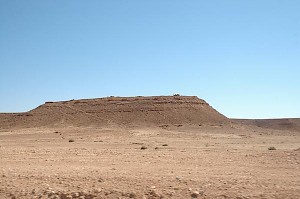 About 50 kilometer along the road from modern Mizda to Gheriat esh-Shergia, you will pass along a high antenna (to your right) and enter a valley. This is the Wadi El-Amud.
To the left of the road, you will find the hill that is shown on the first photo. On top of it are the remains of a building that is interpreted as an ancient centenarium (fortified farm), which possibly also served as a police station.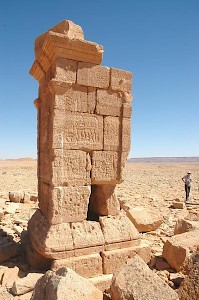 About 1½ km south of it, and clearly visible from the road, is the "trunk" of an ancient mausoleum, not unlike the two tombs at Msletten, the other Msletten, or the splendid monument at Sabratha. There are so many stones near the monument that it may one day be restored to its former splendor; during our second visit, immediately after a shower of rain, we discovered a splendid slab of white marble. Perhaps, the wadi has its name ("wadi of the needle") from monuments like this.
Usually, these monuments had three levels, and from the number of stones, it can be deduced that all of these levels were of about the same height. So you must imagine a second story on top of this one, which appears to have been almost identical to the lowest story, and a steep pyramid on the highest level.
Like the lower part, the center part had columns on its corners, but they were not square with doric capitals, but round, and had acanthus capitals resembling the classical Ionic order. One of the photos below shows the entrance to the chamber, where the deceased persons were buried.
South of the mausoleum, you will find these stones, which I first thought was the foundation of a second monument, but may in fact be a hut made of ancient stones. Near the monument, we found this inscription in Punic letters, which I cannot read, although the sign to the right appears to be a q.
If you proceed along the road to the south, you will, after 15 km, see a remarkable, stupa-like monument for Libyans fallen during the Second World War.
Note
I do not know the name of this monument. I have called the site Wadi El Amud, because that is a place near this monument. It is not mentioned by Graeme Barker e.a., Farming the Desert. The UNESCO Libyan Valleys Archaeological Survey (1996).