Lycian tombs: a type of sarcophagus-shaped tomb, only known from Lycia.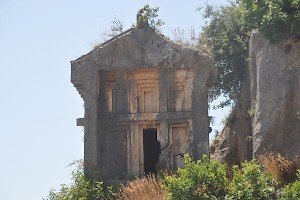 In Antiquity, the bodies of the dead could be cremated or inhumated. The remains were buried: often in an urn, sometimes in a real tomb, occasionally in a mausoleum. The visitor of modern Turkey will, on many places, find ancient tombs, and will quickly recognize the main types: the rock tombs (e.g., Seleucia, Amasia, Myra), the chamber tombs (e.g., Belevi, Demricili), and the Lycian tombs, which are only found in the isolated, mountainous southwest of Turkey. There are more than sixty of them, most of them near the Lycian capital, Xanthus.
Lycian tombs resemble houses, with a clearly recognizable roof, and sometimes even a door. A very fine example is the tomb of a man named Payava, once in Xanthus but now in the British Museum in London. It dates back to the first quarter of the fourth century, and although it has the customary form, it is decorated in Greek style.