Darius I (Old Persian Dârayavauš): king of ancient Persia, whose reign lasted from 522 to 486. He seized power after killing king Gaumâta, fought a civil war (described in the Behistun inscription), and was finally able to refound the Achaemenid empire, which had been very loosely organized until then. Darius fought several foreign wars, which brought him to India and Thrace. When he died, the Persian empire had reached its largest extent. He was succeeded by his son Xerxes.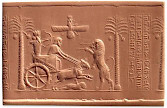 One of Darius' seals, an agate cylinder of about 3.7 centimeters high, engraved with a picture of the king hunting from his chariot, was probably found in a tomb near Thebes (Egypt) and is now in the British Museum. It is possible that this theme was especially dear to Darius, because in his funeral inscription at Naqš-i Rustam, he claims that "I am a good bowman, both on foot and on horseback" (DNb).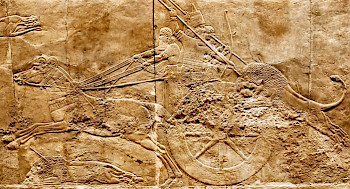 However, the illustration was also very traditional: a royal lion hunt, including a slain animal underneath the horses of the chariot, was also visible in the palace of king Aššurbanipal of Assyria. These reliefs belong to the most famous works of art of the ancient world. The Bible mentions that king David killed lions.note[1 Samuel 17.34-35] We know that two centuries after Darius, Alexander the Great still presented himself as an Asian king by hunting lions, and even the Roman emperor Hadrian appears to have appreciate the symbolism: the ruler beating the violent forces of nature.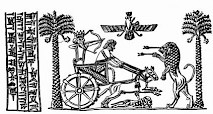 Besides the hunting scene and the two palm trees, we can see the god Ahuramazda in the sky, and, to the left, a trilingual inscription in Elamite, Babylonian, and Persian. This is the Persian text. The last sign is in fact an abbreviation, xšâyathiya, "king":