This page is a stub. It will be expanded to a full-fledged article.
Demetrius III Eucaerus
Demetrius III Eucaerus: name of a Seleucid king, ruled from 97/96 to 88/87.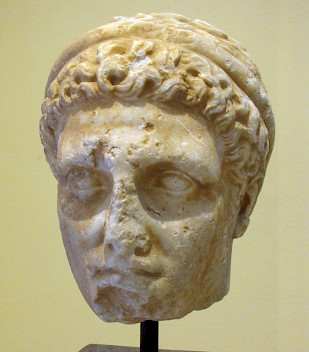 Successor of: Seleucus VI Epiphanes Nicator
Relatives
Main deeds
After 114/113, the Seleucid dynasty was divided into two branches, a northern one and a southern one.
97/96: The Egyptian king-in-exile Ptolemy IX Soter Lathyros makes Demetrius III Eucaerus and his (presumed twin) brother Philip I Philadelphus rulers in Damascus; they are successful in their war against Antiochus IX Cyzicenus and his son Antiochus X Eusebes Philopator.
Summer 96: death of Antiochus VIII Grypus; he is succeeded by Seleucus VI
Early 95: Seleucus defeats and kills Antiochus IX Cyzicenus, who is succeeded by his son Antiochus X Eusebes Philopator.
In the deep south, Demetrius and Philip seem to have expanded their power: from now on, coins are minted for Philip, who seems to have resided in Beroea (modern Aleppo)
Summer 94: Antiochus X defeats Seleucus VI. Leadership of the northern branch is transferred to Seleucus' brother Antiochus XI Epiphanes Philadelphus
93: Antiochus XI in Antioch; his reign, however, comes to an end, and Antiochus X takes over power in both Antioch and the north; Demetrius III and Philip I remain in the south
Demetrius intervenes in the Hasmonaean kingdom, against king Alexander Jannaeus.
c.89: Parthian invasion; end of the reign of Antiochus X, who is defeated by the Parthian leader Mithridates Sinaces and his ally Aziz the Arab
Demetrius breaks off his war against Alexander Jannaeus and captures Antioch
Demetrius and his twin brother Philip start to quarrel; Demetrius besieges Aleppo; Philip invites the Parthian king Mithradates III to help him
88/87: Demetrius is captured by the Parthians) and dies in captivity.
Succeeded by: his younger brother Antiochus XII Dionysus
Sources
Literature
O. Hoover, "Revised Chronology for the Late Seleucids at Antioch (121/0-64 BC)" in: Historia 65/3 (2007) 280-301