This page is a stub. It will be expanded to a full-fledged article.
Antiochus VIII Grypus
Antiochus VIII Grypus ("hook nose"): name of a Seleucid king, ruled from 126/125 to 96.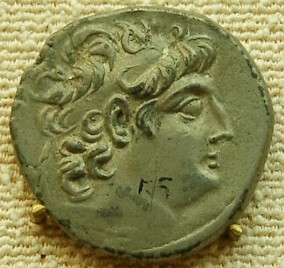 Successor of: Demetrius II Nicator
Relatives
Main deeds
In 125, Demetrius II Nicator is defeated by a rebel named Alexander II Zabinas
In the Seleucid Empire, there is a crisis of succession. Seleucus V attempts to become sole ruler, but is killed
Queen Cleopatra Thea and Antiochus VIII decide to share the throne
124/123: Antiochus VIII marries to Tryphaena (daughter of Ptolemy VIII Physcon)
123: Alexander is defeated, captured, and executed
121: Antiochus forces Cleopatra Thea to commit suicide
115: revolt of Antiochus IX Cyzicenus, a son of Cleopatra Thea from her marriage with Antiochus VII Sidetes
In 115, Antiochus IX obtains an army when he marries Cleopatra IV, who has just learned that her husband Ptolemy IX Soter has divorced her. He revolts against his half-brother, the lawful king Antiochus VIII.
Antiochus IX occupies the southern part of Syria
113: Antiochus IX seizes Antioch; Antiochus VIII keeps Cilicia; he is unable to prevent the Cilician pirates from becoming powerful;
112: Antiochus VIII defeats his opponents; Cleopatra IV is captured and killed;
Summer 112: Antioch is in the hands of Antiochus VIII again
The two Seleucid rulers find allies in Ptolemaic Egypt:

Antiochus VIII Grypus is joined by Ptolemy X Alexander
Antiochus IX Sidetes is supported by Ptolemy IX Soter Lathyros

111/110: Antiochus IX reconquers Antioch
110/109: Antiochus VIII reconquers Antioch
Antiochus IX and Ptolemy IX Soter support the Samarians against the Hasmonaean king John Hyrcanus of Judaea
Rome intervenes for the Jews, and against the Samarians and Antiochus IX
104: the Roman commander Marcus Antonius attacks the Cilician pirates
103: Antiochus VIII marries to Cleopatra V Selene (daughter of Ptolemy VIII Euergetes Physcon)
Summer 96: Natural death; in order to put an end to the civil war, his wife marries Antiochus IX. However, a son of Antiochus VIII, Seleucus VI, continues his father's rule.
Succeeded by: Seleucus VI Epiphanes Nicator
Sources
Literature
O. Hoover, "Revised Chronology for the Late Seleucids at Antioch (121/0-64 BC)" in: Historia 65/3 (2007) 280-301