This page is a stub. It will be expanded to a full-fledged article.
Athens, Acropolis
Q131013
Athens (Greek:  Ἀθῆναι): one of the main Greek city-states.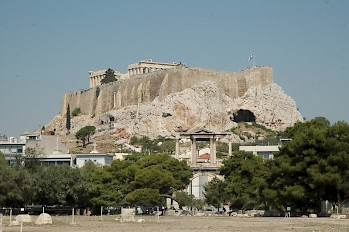 The Athenian acropolis (citadel) was already occupied in the Mycenaean age. The sanctuary known as the Erechtheion appears to go back to this period. There are some Mycenaean walls too. Other monuments include:
The Hecatompedon: the remains of an early temple (sixth century BCE)
The statue of Athena Promachos, made by the sculptor Phidias (458 BCE)
The Parthenon: the temple of Athena, the city's main goddess (447-438 BCE), with Phidias' statue of Athena Parthenos and the decoration that is known as the Elgin Marbles
The temple of Nike (built during the Peloponnesian War)
The monument of the Roman general Agrippa
The sanctuary of Roma and Augustus
A gate, built in 280 CE against barbarian attacks (the "Beulé Gate")
The Parthenon was later converted into a church.
Photos
Elgin Marbles