MicipsaCirta: Numidian-Punic settlement, Roman city, capital of the province of Numidia, modern Constantine.
Cirta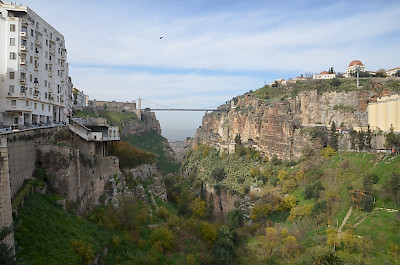 Situated along a splendid gorge; caves inhabited in Prehistoric times
c.300 BCE Punic settlers (from Carthage?), who called the town Kirtha, "the city". There are several hillforts in the neighborhood (e.g., Tiddis)
203 BCE: During the Second Punic War, Scipio's right-hand man Laelius and Rome's Numidian ally Massinissa defeat the Carthaginian ally Syphax; Scipio recognizes Massinissa as king; capture of Syphax and queen Sophonisba; Cirta is Massinissa's residence
To the south of the town is the cemetery/sanctuary of Hofra, used by various peoples
The tomb at Soumaa d'el Khroub is built, probably for Micipsa
112 BCE: Adherbal besieged; captured by Jughurtha
c.46 BCE: Temporarily independent during the Roman civil wars; capital of the Roman province of Numidia
Protected during the war of Tacfarinas.note[Tacitus, Annals 3.74.]
308-310 CE: A pretender named Lucius Domitius Alexander rises against the emperor Maxentius; Cirta is sacked
313: Constantine rebuilds the city and calls it Constantine
c.430-533/534: Vandal domination of the region
533/534: Byzantine rule.
Seventh century: Arab conquest.
The Hofra Sanctuary