Constantinople, Monastery of St John of Studius
Q1551419
Monastery of St John of Studius: one of the main monasteries in Constantinople, famous for its defense of the Nicene Creed.
In 462, a Roman patrician and former consul who had moved from Italy to Constantinople, Studius, founded the Monastery of Saint John the Forerunner (i.e., John the Baptist) in the southwestern part of the city, close to the sea. It was finished in 463. Today, only a part of the abbey's church survives.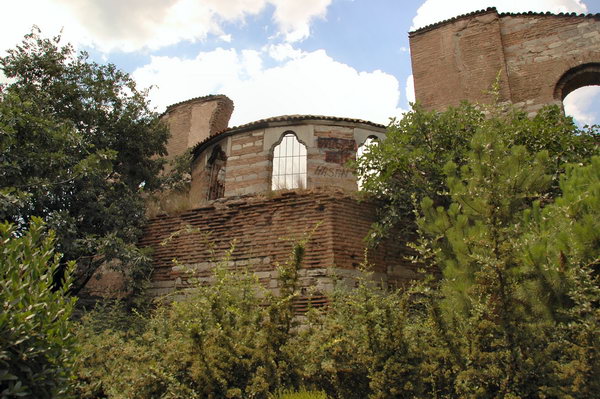 The monks belonged to the order of the Akoimati, "sleepless ones": there was always someone in the church, where Christ was perpetually adored. In the early years, there may have been more than thousand people living here.
The monks became famous during the reign of the emperor Zeno, when the patriarch of Constantinople, Acacius, published the Henoticon (482). This text was meant to keep the Monophysite Christians within the Church, allowing them to ignore some of the decrees of the Fourth Ecumenical Council at Chalcedon. The bishop of Rome, Felix III, found this unacceptable and excommunicated Acacius in 484. In this conflict, the monks of Saint John of Studius sided with the pope.
As the conflict ended with Constantinople yielding to Rome - in 519, the emperor Justin accepted that the excommunication of Acacius had been justified - the Studite monks became known as the champions of orthodoxy. Later, during the Iconoclastic period, they sided with the Iconodules, and saw their abbey closed from 754 to 787, when the Iconodules won the struggle. Later Byzantine monasteries, like those on Mount Athos, have taken inspiration from the Studites.
The building is now known as Imrahor Camii, because in Ottoman times, it was a mosque. It was destroyed by an earthquake in 1894.