Lepcis Magna, Beach Temple
Beach Temple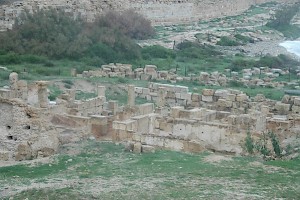 The artificial port of Lepcis Magna was situated to the southeast of the old city center. As was customary, there were several sanctuaries, where the sailors could say their prayers before their voyage out or after their safe voyage back home. Merchants could use these places of worship to conclude business deals, with the eternal ones as witnesses.
One sanctuary was directly east of the harbor, close to the road to the amphitheater, almost on the shore. It may have been dedicated to a watery deity like Neptune or Portunus, although the fact that there were granaries in the neighborhood may suggest the cult of Ceres too.
I have not been able to find more information about this monument. It does not help that this part of the excavation is closed.