Ras al-Hillal: promontory in the Cyrenaica, best-known for its Byzantine church. Its ancient name is Naustathmus.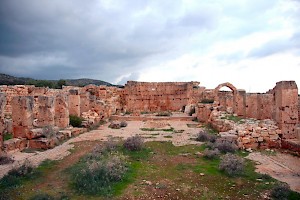 The promontory that was in Antiquity called Naustathmus ("naval station") is about twenty kilometer east of Apollonia. The modern name, Ras al-Hillal, means something like Cape Crescent. The site commands the main road from the Cyrenaica along the coast to the area known as Marmarica, but there's also a road inland, to the Green Mountains and native towns like Slonta. Along the inland route, there are several ancient necropoles, of which Snibat al-Awila is best known; it is a favorite pick-nick site for people from the area.
Because the predominant wind in the Mediterranean world is from the north, and because the wind takes rain clouds with it, Ras al-Hillal is very green: those rain clouds empty itself on the Green Mountains. Near the site is a waterfall, not very spectacular perhaps - but it is perennial, which is very rare in Libya. On this delightful location, the Byzantine emperor Justinian (r.527-565) ordered the construction of a new church on the site of an earlier Christian sanctuary.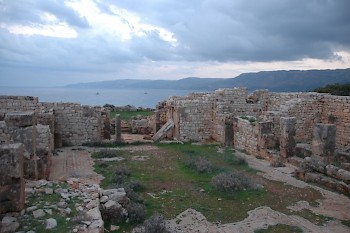 It was not the only building project inaugurated by this emperor in this area. There were other new churches at Apollonia, Ptolemais, and Theodorias (modern Qasr Libya); it must have had a lot to do with the reorganization of the frontier in the 530s (the Ananeosis). The foundations and the lower part of the walls of the church at Ras al-Hillal are well preserved. It must have been a high building, because on three places, stairs gave access to a second floor in the northern and southern nave. This proves that the central nave must have been even higher.
Although most of the mosaics -including personifications of Ktisis and Kosmesis ("foundation" and "ornamentation")- have been brought to the museum at Apollonia, some of them remain on the site itself. The marbles were either imported directly from Greece (cf. the green-white layered cipollino) or Egypt (the pink granite), or were recycled from the abandoned cities in the neighborhood, like Cyrene.
Like the western basilica in Ptolemais, the church has its altar in the west, opening its doors to the rising sun. The Baptistery is in the southwestern corner. In the northwestern corner, the relics of the patron saint of this church, an otherwise unknown man named Andrew, were kept.
The church was in use for almost a century, until in 643, the Muslim armies pushed from Egypt to Cyrenaica. The church was reused as a mosque; the mosaics of the apse were covered by stucco, and inscriptions mentioning Allah were added.