Rhodiapolis: ancient town in southeastern Lycia, modern Kumluca.
Origins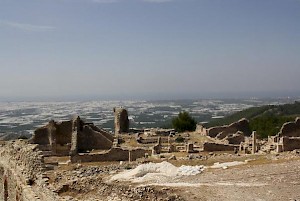 According to Hecataeus of Miletus, Rhodiapolis received its name from the Rhodians who had founded this town. On the other hand, Theopompusnote[FrGrH 115 F 103.15.] states that Rhodiapolis was named after Rhodos, a daughter of the seer Mopsus, who is mentioned in the Iliad and is identical to a king who once ruled in Cilicia and Pamphylia named Mukšuš.note[A Luwian-Phoenician bilingue from Karatepe mentions one Mpš/Mukšuš as ancestor of an eighth-century king, and he is also mentioned in a thirteenth-century tablet from the Hittite capital Hattusa.]
However, the original Lycian name - known from a/o coins - was Wedrei, also written as Wedrennehi and Wedrenni. The existence of a non-Greek name suggests that there was a settlement already before the Rhodian colonisation.
Missing History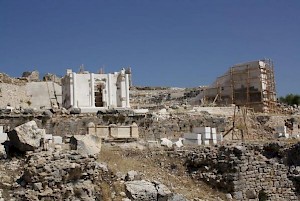 Rock tombs and inscriptions prove that Rhodiapolis was a town of some importance in the Classical age, but it is not often mentioned in our sources. Coins are the best evidence that in the Hellenistic age, the town was a member of the Lycian League. A very long inscription documents the activities of an extremely wealthy citizen, Opramoas, who lived in the second century CE and acted as benefactor of his own town and several towns in the neighborhood. It is remarkable, however, that the town is hardly mentioned in our sources.
Monuments
In spite of Rhodiapolis' age, most monuments date from the Roman and Byzantine periods: a theater, a bathhouse, an agora with a stoa, a sebasteion (sanctuary for the imperial cult), a number of temples, a church, several cisterns, houses, and necropolises.
Getting there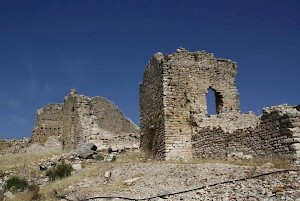 Rhodiapolis lies about seven kilomters from modern Kumluca. The modern road, which leads directly to the site, is very well signposted. There one can follow a good footpath to the archaeological remains. As indicated above, most buildings are from the Roman and Byzantine periods. First one can reach the huge lower city bastions, remains of city walls and further on the left the bathhouses and huge watercisterns. To the right one can reach the partially reconstructed theatre via a beautiful preserved flight of steps along a great wall. There you see also a stoa, built by Opramoas, currently being reconstructed. On the top of the hill lies the acropolis with some remains of huge bastions and the upper city walls.