Arch of Gallienus: triumphal arch in Rome, dating back to the third century.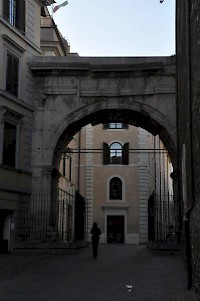 The Arch of Gallienus is not a real triumphal arch. It is in fact one of the gates of the Servian Wall, which surrounded Rome from the fourth century BCE. Its original name was Porta Esquilina. The gate was rebuilt by the emperor Augustus (30 BCE - 14 CE; he also ordered the reconstruction of another gate that belonged to the Servian Wall, the Arch of Dolabella).
The Porta Esquilina was converted into a triumphal arch by the time of the emperor Gallienus (253-268), who tried to keep the Roman Empire together in the difficult third quarter of the third century and celebrated his decenalia in 262. The Historia Augusta, a collection of partly invented imperial biographies, offers a colorful description of the triumphal procession of Gallienus.note[Historia Augusta, "Gallienus" 7.4-9.8.]
The photo to the right shows the arch, seen from the east. The building to the right, hardly visible, is the church of San Vito. The inscriptionnote[CIL 6.1106 = EDCS-17600760.] reads:
GALLIENO CLEMENTISSIMO PRINCIPI CVIVS INVICTA VIRTVS SOLA PIETATE
SVPERATA EST ET SALONINAE SANCTISSIMAE AVGVSTAE AVRELIVS
VICTOR V
ir
E
gregius
DICATISSIMVS NVMINI MAIESTATISQVE EORVM
Which means that
Aurelius Victor, the excellent man, [dedicated this] in complete devotion to their majesties' will, to Gallienus, the most clement emperor, whose unconquerable virtue is only outdone by his piety, and to the sacred empress Salonina.
The road leading through this gate was called the Clivus Suburanus and is is identical to the modern Via S. Vito and Via S. Martino. The continuation, the Via S. Madonna dei Monti, follows the course of the ancient Argiletum, which used to be the main road to the Forum.
In Antiquity, there were two smaller arches to the left and right of the Esquiline Gate, which must have been part of the Arch of Gallienus too, but they were demolished during the Renaissance and the marbles were used to decorate a church or a palace.