Seleucia, Canal and Tunnel of Titus
Q18926963
Seleucia in Pieria or Seleucia by the Sea: port in Syria, one of the four cities of the Syrian tetrapolis. The modern name is Çevlik, a village near Samandağ. The city is not to be confused with Seleucia on the Tigris or Seleucia on the Euphrates.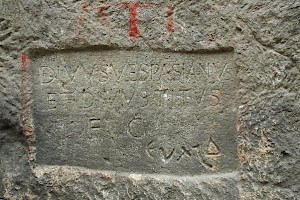 Seleucia had at least two ports, but the harbors continued to be silted up. Several Roman emperors ordered canals to be dug to prevent this process, but in the end, this was in vain. One of these canals was, according to Flavius Josephus, dug by Jewish slaves, working under orders of the Roman commander Titus, who had captured Jerusalem in 70 (other POWs were sent to Rome, where they had to build the Colosseum).
This canal is almost 1400 meters long and a part of it runs through a tunnel that was designed by engineers of the Tenth legion Fretensis. According to an inscription, it was not finished until the reign of Antoninus Pius (138-161).