Tell al-Rimah Stela (797 BCE): inscription by Assyrian king Adad-Nirari III, in which he describes his successes in the west.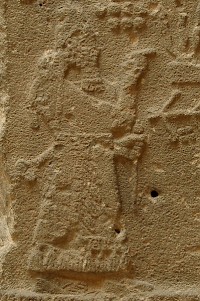 In the first half of the ninth century BCE, the Assyrian kings Aššurnasirpal II (r.883-859) and Šalmaneser III (r. 858-824) had expanded the Assyrian Empire across the Euphrates to the Mediterranean Sea, adding what is now Syria. After that, there had been a crisis and the expansion had been interrupted, but Šalmaneser's grandson Adad-Nirari III (r.811-783) resumed the western offensive.
Among the evidence are the Antakya Stela, the Nimrud Slab, and the Tell al-Rimah Stela (CoS 2.14F), which can be dated after 797 and was discovered in northern Iraq. The Tell al-Rimah inscription is interesting becaused it mentions tributes by king Jehoash of Israel and the kings of Tyre and Sidon.
The translation offered here is by K. Lawson Younger.
---
The Tell al-Rimah Stela
[1] To Adad, the greatest god, powerful noble of the gods, first-born son of Anu, unique, awesome, lofty, the canal-inspector of heaven and earth, who rains abundance, who dwells in Zamahu, the great lord, his lord.
[2] Adad-Nirari, mighty king, king of the universe, king of Assyria, son of Šamši-Adad, the king of the universe, king of Assyria, the son of Šalmaneser, the king of the four quarters.
[3] I mustered my chariots, troops, and camps; I ordered them, to march to the land of Hatti. In a single year, I subdued the entire land of Amurru and Hatti. I imposed upon them tax and tribute forever.
[4] I received 2,000 talents of silver, 1,000 talents of copper, 2,000 talents of iron, 3,000 linen garments with multicolored trim - the tribute of Mari' - of the land of Damascus. I received the tribute of Jehoash the Samarian, of the Tyrian ruler and of the Sidonian ruler.
[5] I marched to the great sea in the west. I erected a statue of my lordship in the city of Arvad, which is in the midst of the sea. I climbed Mount Lebanon; and I cut down timbers: 100 mature cedars, material needed for my palace and temples.
[the text continues with remarks about the exploitation of land in Mesopotamia and a curse against those who damage the stela]