BCHP 2 (Alexander and Arabia Chronicle)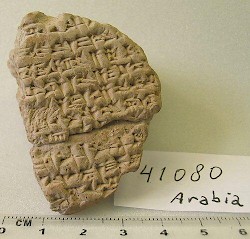 The Babylonian Chronicle concerning Alexander and Arabia ("Alexander and Arabia Chronicle"; BCHP 2) is one of the Mesopotamian chronicles written in ancient Babylonia in the Hellenistic Period. It deals with events from the last regnal year of the Macedonian king Alexander the Great. For a very brief introduction to the literary genre of chronicles, go here.
This is a preliminary translation of an unpublished cuneiform tablet (BM 41080) in the British Museum. The official publication will be in I.L. Finkel, R.J. van der Spek, R. Pirngruber, Babylonian Chronographic Texts from the Hellenistic Period (2020; = BCHP; Writings of the Ancient World).
Description
Small fragment. Height: 5.0 cm, width 3.5 cm. Reverse lost.
This fragment probably deals with the second entry of Alexander the Great into the city of Babylon in 323 BCE, but the condition of the tablet hardly allows firm conclusions.
---
Translation
[1'] [......] he pitched his [cam]p [......]
[2'] [......] they? crossed [the river Tigris] to this side and the king [......]note[The crossing of the Tigris may refer to Alexander's crossing, when he came from the east early in 323 BCE. Apparently he pitched his camp there. He was met there by Babylonian astrologers.]
[3'] [... on the river Ti]gris opposite each other [......]
[4'] [... Han]ean [troops] to the land of Arabia [......]note[Interesting to note is the reference to the preparations for the war against Arabia, preparations which were made at Babylon already before Alexander arrived there. A harbor was being built and boats were coming from Phoenicia (Arrian of Nicomedia, Anabasis. 7.19.3-20.10; cf. Strabo of Amasia, Geography 16.1.11). If we may believe Strabo 16.4.27 Alexander even intended "to make it his royal abode after his return from India." If this intention was known in Babylon, it must have displeased the Babylonian priesthood, who would have remembered Nabonidus, who made Tema (Teima) in Arabia his royal abode and who neglected the cult of Marduk, even tried to promote the cult of Sin there (Beaulieu 1989: 43-65). ]
[5'] [......] ... numerous gifts of the people of the land [......]note[Alternative translation: "the people of the land [gave] numerous gifts". The phrase may reflect Diodorus' remark about Alexander's entry into Babylon (Library, 17.112.6): "As on the previous occasion, the population received the troops hospitably, and all turned their attention to relaxation and pleasure, since everything necessary was available in profusion."]
[6'] [... Babyl]on? and the troops of the king from Ba[bylon .....]
[7'] [... Ale]xand[er, the ki]ng [......]
[8'] [...... ] x he pitched?. The citizens [of Babylon .....]
[9'] [......] ... in the Great Gate ..[ ......]
[10'] [......] Bêl and Nabû [......]