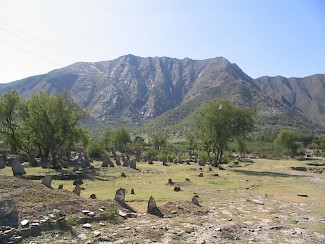 The enormous ancient mountain fortress of Ora is situated south of the river Swat. In the spring of 326 BCE, Alexander the Great conquered this region. While he was besieging Massaga, several officers (a/o Polyperchon) were sent ahead to take Bazira and Ora, but they failed in their missions. The fortress was simply too high. Even worse, a nearby Indian king sent reinforcements to Ora.
As soon as he could, Alexander hurried to this fort, and finally took it. The captured elephants were added to the Macedonian army. The fate of the defenders, people of the tribe of the Assacenians, is not recorded.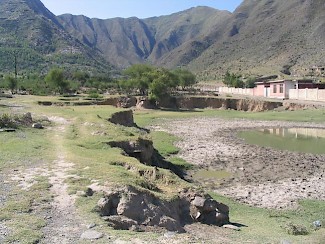 At the foot of the mountain fort, the ancient market area had been identified. It has been excavated, but the archaeological remains have been reused as decoration of a nearby cemetery.
Literature
Arrian,

Anabasis

, 4.27-28
Aurel Stein,

On Alexander's Track to the Indus

(1929, 2003) 52-57