This page is a stub. It will be expanded to a full-fledged article.
Arsaces I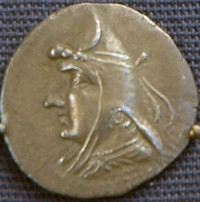 After the fall of the Achaemenid Empire, the satrapy of Parthia, northeastern Iran, was governed by the Seleucid kings: a Macedonian dynasty that ruled in the Asian territories of the former Persian Empire. In 245 BC, when the Seleucids were involved in the Laodicean War in the West, a satrap named Andragoras revolted from the young Seleucid king Seleucus II Callinicus, who had just succeeded to the throne.
In the confusion, Parthia was overrun by the Parni, a nomad tribe from the Central-Asian steppe. Their leader was a man named Arsaces.
In 238, they added the district known as Astavene to their possessions. Three years later, a Parnian leader named Tiridates ventured further south and seized the rest of Parthia. A counter-offensive by king Seleucus ended in disaster, and Hyrcania was also subdued by the Parni. The Parni, who would from now on be called Parthians, recognized Arsaces as their king. His capital was Hecatompylos and he was succeeded by his son Artabanus, who accepted as throne name Arsaces II.
Note
The chronology of the Arsacid kings of the Parthian Empire is less well-understood than, for example, the sequence of Seleucid and Ptolemaic kings or the emperors of Rome. This information is based on the researches by G.R.F. Assar, as published in "Iran under the Arsakids, 247 BC – AD 224/227" in: Numismatic Art of Persia (2011).